Hey guys! So I am very excited to be posting Blogger Digest today, which is a great idea created by the lovely
Nykki.
I mean it guys, Nykki is awesome so you should head to her blog and subscribe! Anyway, this post is basically a way for you to catch up on the posts I made through out the week, so you can be sure you don't miss anything you could be interested in!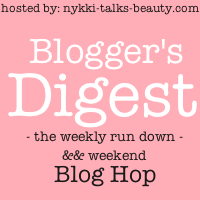 This week has been super mega busy for me, so I didn't blog for a few days, but I do have quite a few posts up that I think might interest you!
Saturday, I posted
this weeks bloghop
, the new one will be up tomorrow, but don't worry - you can still enter this one because the links will close on Saturday! I also posted my wishlist for the 100 Day Challenge
here!
Coming up tomorrow, a group giveaway will go live (yay!!), & I will have this weeks One Day at a Time bloghop up, too. Sunday will include my wishlist for the week and maybe my November favorites!