Dear Friday:// Thank you for finally coming, I honestly could not go another day!
Dear door:// Thanks for hitting me in the face & then making me get stuck on you today, everyone saw that.
Dear Tyler:// Thank you for always being there for me, like a brother should be.
Dear mom:// Thanks for laughing at my jokes that aren't funny at all.
Dear my brain:// You're going crazy on me - concentrate!
Dear bloggers:// I hope I don't annoy you with my frequent comments.
Dear twitter:// I tweet too much - I'm sorry.
Dear Pinterest:// Since when do you have such amazing recipes on you? I'm addicted to pinning.
Dear George Lopez:// I wish you were on earlier than one in the morning - you know I'll crash before then.
Dear me:// When have you gotten so old?! You used to pull all-nighters! Now you're all cuddled in before midnight..... *what a shame*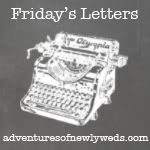 What are your Friday letters?