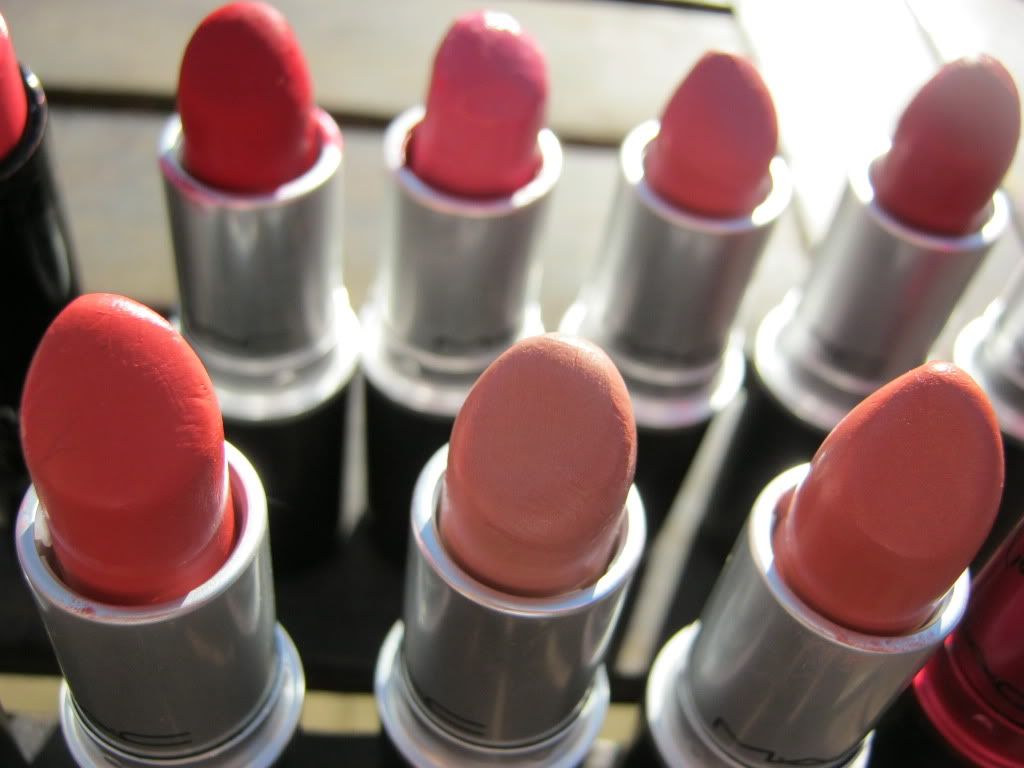 Let me start out this post by saying I've finally ran out of picture storage on Blogger. Seriously? It's like an urban myth for blogging, no one ever thinks it will happen to them, but it finally happened to me after nearly 2 years of blogging, so trust me - it does happen, and it's not the Big Foot of blogging. Really, it's no change except for the fact that I now have to go through the extra step of uploading pictures onto Photobucket first, which is a little annoying. But I'm not going to pay for extra space on Blogger, that just is not something I want to do! Anyway, off of my ramble and into the real reason for this post! Haha :)
I love lipsticks, I used to hate them because they always got on my teeth, they always needed to be reapplied every ten minutes, and they always stuck to the lines in my lips. But after finally caving and buying my first MAC lipstick in April, I've been hooked ever since! MAC lipsticks are my ultimate favorite lipsticks, they just ARE. They are so smooth, creamy, pigmented, and luxurious - I will undoubtedly be asking for a few for Christmas because they are my absolute favorite lipsticks! I decided today would be a good day to show you my MAC lipstick collection and talk a little more about why these lipsticks are my favorite!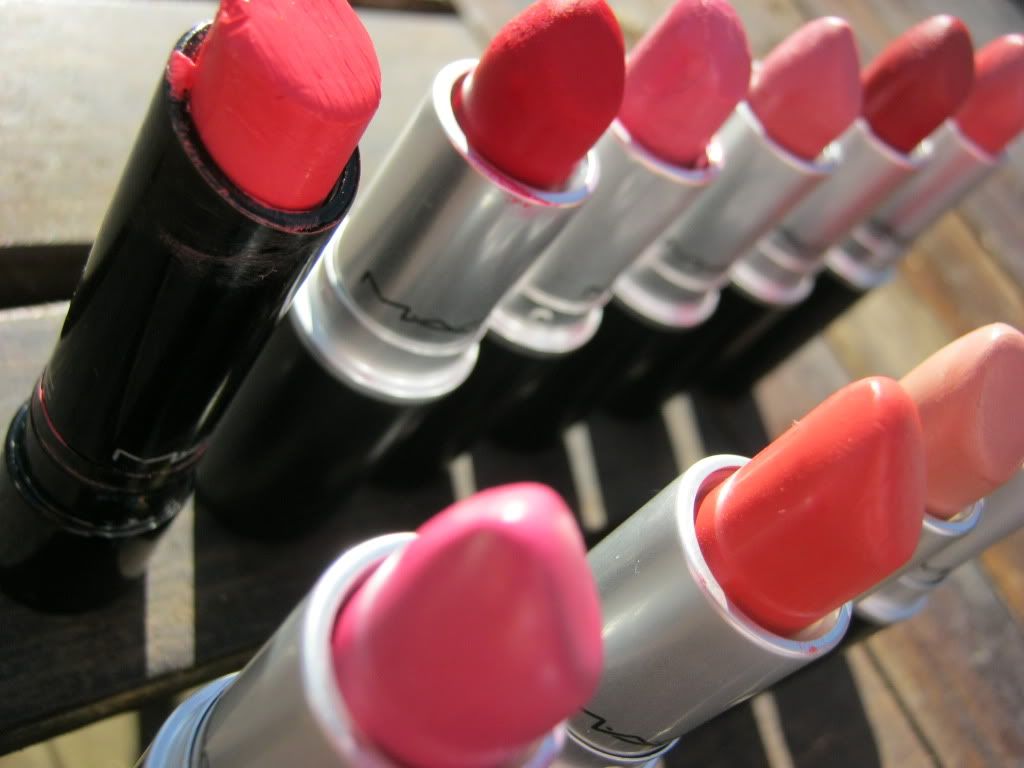 The packaging is just so luxurious and it really does make you feel like you have a princess item, or is that just me? MAC lipsticks retail for $14.50 and the price is constantly rising, but to be honest - I don't even care. I will keep buying MAC lipsticks because no other lipstick compares. They are just so perfect! The colors are pigmented and smooth, and the packaging makes you feel like you have a bit of luxury. I also like that these lipsticks are a little expensive, but not crazily expensive. I feel like spending $30+ on a lipstick is just a little bit ridiculous. I feel like $15 is perfectly in the middle, not super pricey but still not really cheap, either.
I currently have 11 MAC lipsticks which is a decent amount, but nothing compared to some bloggers. Quite a few of these were gifted to me by the amazing
Sarah
, so I always thank her for those! In my collection, I currently have Full Speed, Ruby Woo, Lovelorn, Please Me, Russian Red, Ravishing, Speed Dial, Vegas Volt, Creme de Nude, Viva Glam Nicki, and Crosswires. If I had to pick a top three, I'd go with Lovelorn, Ruby Woo, & Please Me - but that's HARD!!
I love MAC lipsticks for the pigmentation, most of the time when you buy a lipstick, it's a gamble as to whether it's pigmented or not, but MAC lipsticks never let you down! I also love the fragrance of MAC lip products, they just smell like an amazing, whipped vanilla. It seriously makes me just want to go buy every single lipstick MAC has. The more I talk about them, the more I want!
And here are some swatches! On the top row is Lovelorn, Viva Glam Nicki, Crosswires, Creme de Nude, Ravishing, and Vegas Volt. The next row is Full Speed (from the Sheen Supreme line), Ruby Woo, Speed Dial, Please Me, and Russian Red. The last two colors in the first row look a little darker than in real life, but that's just because the sun was directly hitting them. D:
I took these pictures yesterday on Thanksgiving, and my brother offered to assist. Of course I wanted some help, so I told him he could uncap the lipsticks and arrange them while I took pictures of the other products I was photographing . This led to him stacking all of the caps onto of each other and holding them up like he was so proud. Have I mentioned he's not a child? :)
Do you have any MAC lipsticks?
Lots of love,