So, I figured I owed you guys another post today considering the fact I haven't blogged in like, three days or so and that's not really an unusual thing for me lately. ^.^ So, this is the second time I've done Bloggers Digest hosted by Nykki Talks Beauty, but I skipped last week, so it's kind of the third week in a way. :)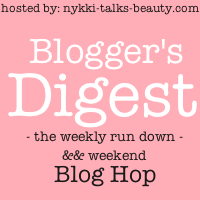 ♥ Saturday, I posted
this weeks bloghop
(you can still join in! entries close on Saturday, when the next weeks post goes up) and I also posted
my 100 Day Challenge update
, too.
♥ Monday, I posted my
Christmas tag,
which was really fun because I love Christmas! Be sure to check that post and see if you were tagged! Even if you weren't, still do the post! It's fun, I promise :)
♥ And earlier today I posted my
Gift Guide for the holiday season
which took me HOURS to put together, so I hope it was helpful to all of you guys!
Well, that's it! Kind of a short week because I only blogged 4 times. I'm sorry guys, I'll try to blog more often this week, but things are really hectic right now and I'm having a hard time finding time for posts. And when I do have time, I normally am really tired and don't feel good. Oh well, I'll stick with it and I'm sure I'll find time and my mojo again very soon. :) Also, I'm almost at 500 subscribers which I really can't believe! It would literally make me so, so happy if I got to 500 by Christmas!! :)
ALSO, my group giveaway is still open for just two more hours! We're almost at 1000 ENTRIES!!! Come enter for a chance to win great prizes!
OH, (so many announcements!) I am now a part of the
#bbloggers team
and will be handling everything having to do with the summaries. So if you want to do a summary for a chat, sign up
♥ HERE ♥
and I'll be in contact with you soon!